Holiday Cards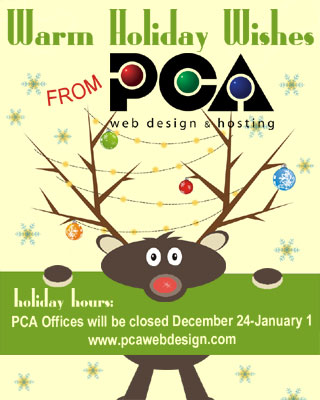 Let PCA design your next holiday e-card, announcement or special invitation. E-cards are fun, less expensive and have other marketing benefits. Here's why professionally designed e-cards have an advantage:
Cost effective - send unlimited cards for one price (versus an average cost of $225.00 for just 100 printed cards)
Environmentally friendly (a GREEN solution to print cards)
Interactive experience that makes e-cards a more powerful marketing tool (drive customers to your site with links to your Web pages or to special promotions)
Higher brand awareness
Customized and professional appearance, and with no 3rd party ads like some "free" services offer
Tracking - because the e-cards are hosted on your site, you can track the number of times your e-card is opened via your host's stats reports
E-cards cost anywhere from $250.00 to $500.00 depending on the design and level of customization you choose. If you are interested in discussing a PCA holiday e-card card or invitation, please contact Christie at info@pcawebdesign.com.